Whenever create your product (workspace) with GETitOUT, you give us a first input for your marketing, enough to create at least your first material.
Remember, you can always complement this information later in the GETitOUT flow, each step you see in the creation of a product is a section that awaits more information in order to successfully generate your messages and materials.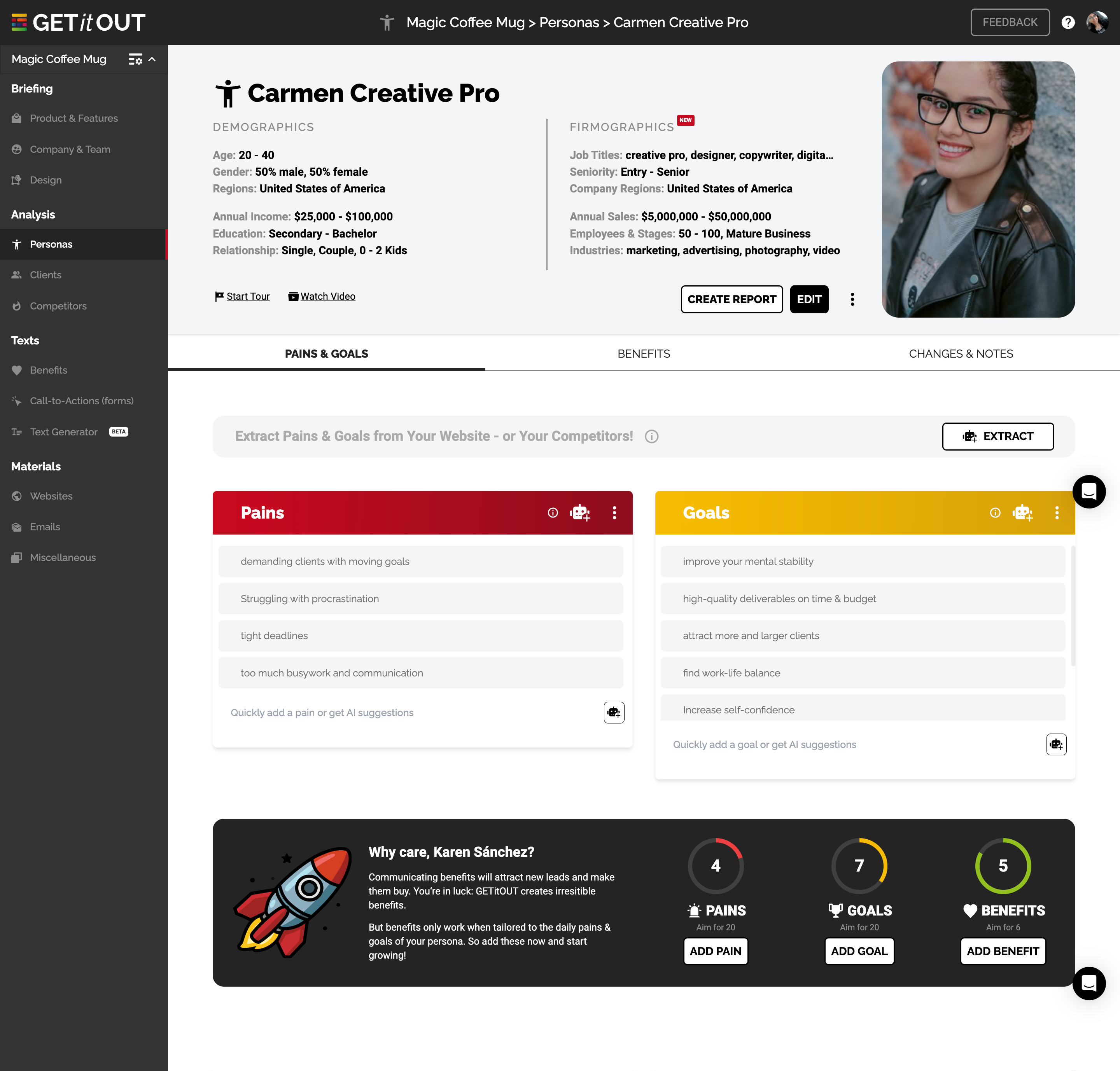 Create Multiple Buyer Personas & Discover Your Ideal Client 👤
This will be the dashboard you'll use the most in your marketing analysis.
Create, gather, and prioritize the buyer profiles you need (without limits), and identify them in detail in their demographics, pain points and goals.
If you still don't know what a Buyer Persona is, take a look at this article.
✏️ Edit basic data of your ideal customer.
Build a basic data profile based on previous research, experience with current customers, and a bit of intuition by imagining what your ideal customer would be like. Give a name and an image to make it easier to identify them. Read how to do it in detail here.
📌 Add important notes
It's a good place to see details, reference links, inspiration, interview reminders, and conclusions of your findings. It's always important to have some ideas at hand.
🔴 Add their Pain Points.
Describe specific problems of your prospects, do this by getting inspired with great brainstorming (it's always better to have too much than not enough).
Answer questions like 'What's holding them back from success?' 'What barriers do they face in achieving their goals?' Read some tips on how to do it here.
🏆 Add their goals and dreams.
Let your ideas flow into a big wish-list of your prospects, positive points that you'll need to find.
This answers questions like 'What motivates your customers?' 'What's their ultimate goal?' And it'll help your product match. Read some examples here.
💡 Prioritize and define, choose relevant ideas
This is the last step and sometimes the harder. It doesn't matter if you have a big list, the key is to prioritize. Now is when you must decide which are the most important pain points and goals that you'll consider and that match your product.
Hold and drag vertically to the place you want to order it in the list.