Marketing can be a game of building blocks if you know how to play it. Look at it as a formula, a science, if you have pieces that build great structures, you have an organized and consistent methodology.
With this in mind, GETitOUT will guide you through 4 levels of this interesting game, it starts with the highest complexity so that when you reach the last level of results, you can create everything you want without having to build again.
How does GETitOUT do it?
You will have 4 levels that will go from higher to lower complexity:
Level 1 - Briefing: ✏️
Easily document features (or services) with professional texts and images. Add company details, values, and team, and define the brand with logos, colors, and fonts. No more searching - everyone is finally on the same page.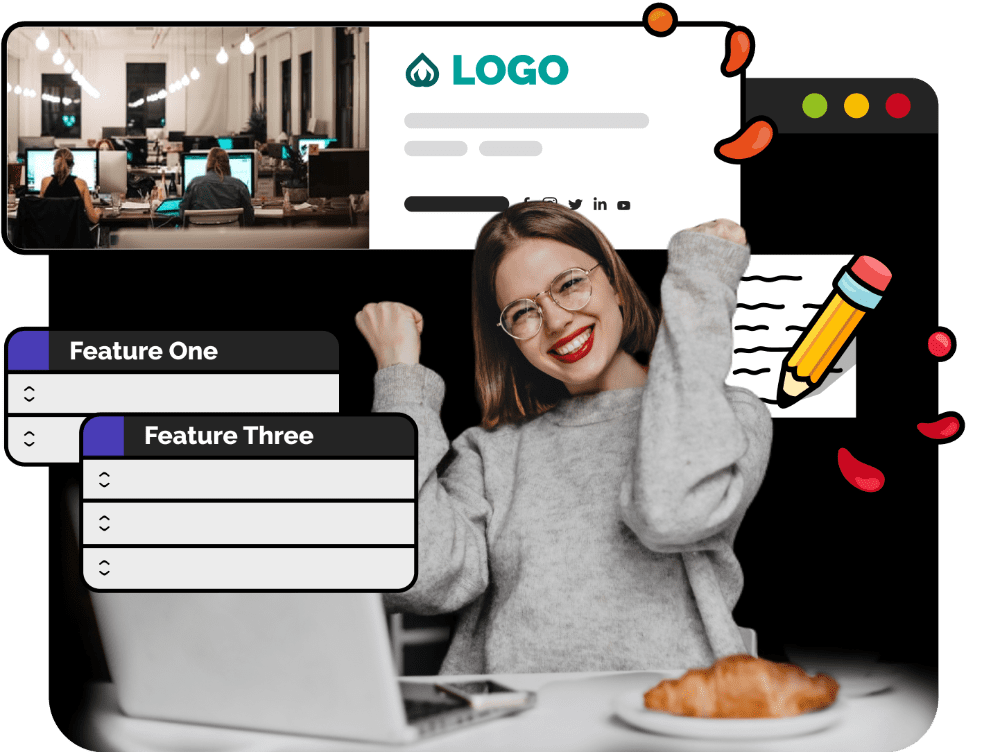 Complexity: Medium - High
For the case you have your marketing foundation in place, it will not be a challenge, for some others starting from scratch, the most difficult point is to give input and explain what your product consists of, what features it has and how it is visualized.
Level 2 - Analysis: 🔍
Create Buyer Personas to find and understand your ideal clients. Analyze existing Clients and Competitors to stand out from the crowd. Then use these insights to create landing pages and emails that attract happy, paying customers.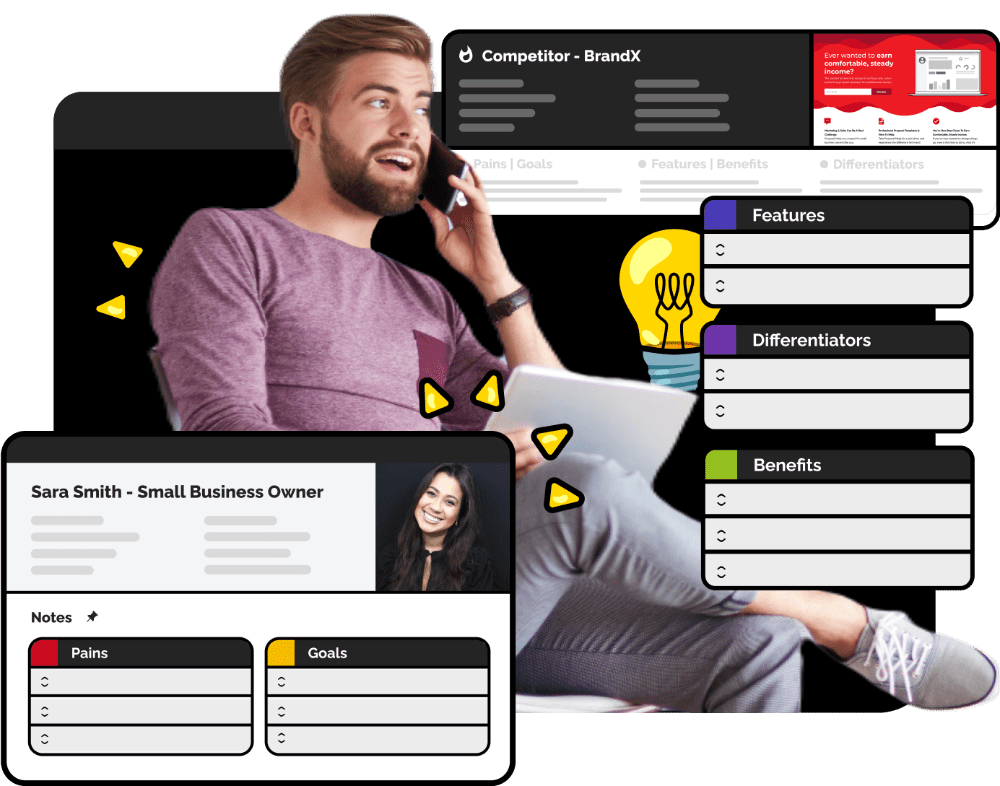 Complexity: Medium - High
If you have a base it will surely be easy to keep up, if you start from scratch, you will have to take very seriously to find your ideal customer, observe your competition and learn from your customers, all focused on knowing who to target your product, and better yet, what is your differentiator and positioning.
Level 3 - Texts: 🤖
Customers don't care about you - they care about what's in it for them. Turn features into tangible benefits that build trust and rapport. The result: Higher conversion rates and consistent, attractive messages for all your marketing materials.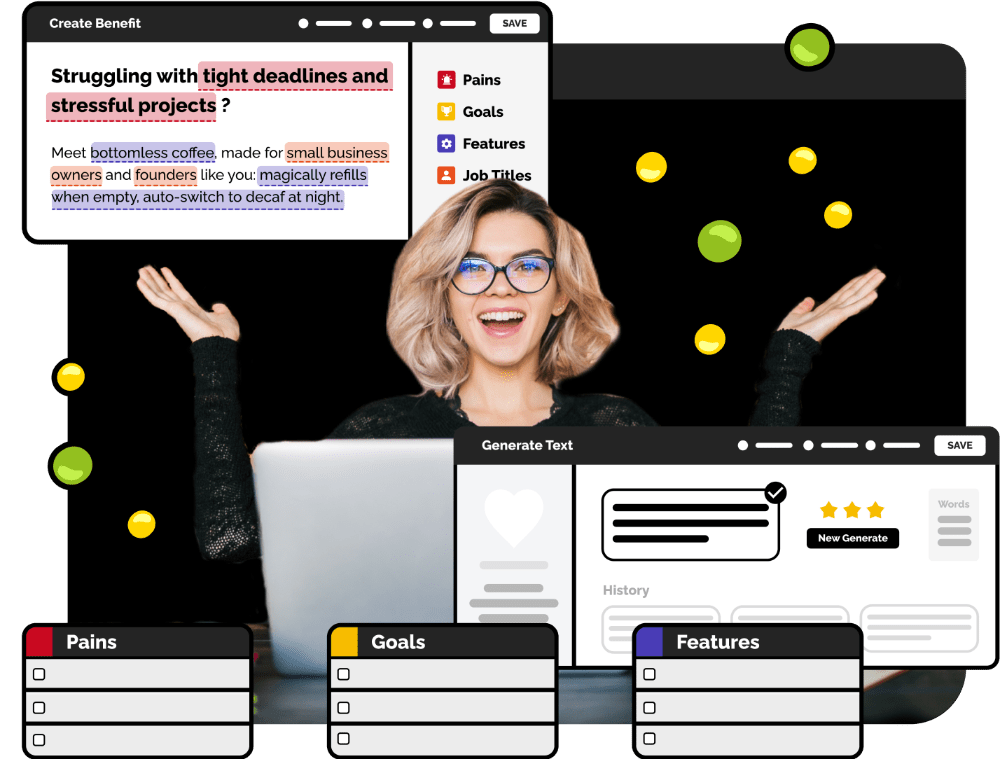 Complexity: Medium - Low
Having completed the previous 2 levels, this part will be easy.
You will start playing from now on, combining level 1 pieces such as features and level 2 pieces such as pains & goals of your buyer persona, this to generate benefits with the help of the AI assistant. With this style of formulas you will be able to generate texts such as testimonials, mission, values, comparisons, etc...
Level 4 - Materials: 💻
No more staring at a blank page, no more reinventing the wheel: Let GETitOUT generate your landing pages, emails, presentations, promotional materials, and so much more - ready to use, with professional marketing texts, in your design.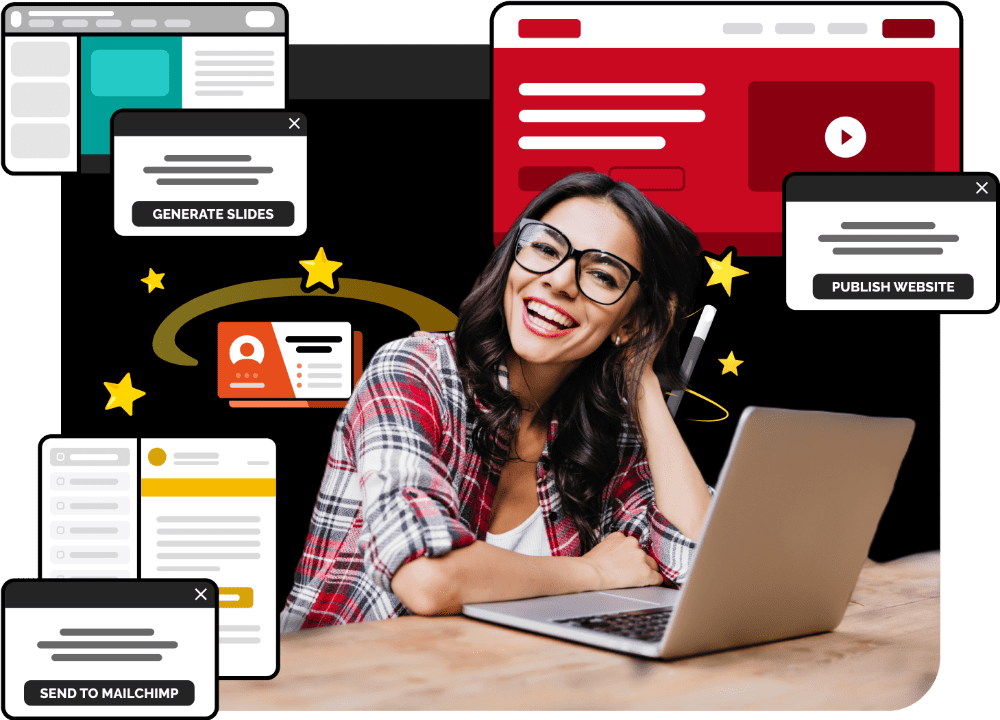 Complexity: Low
Similar to level 3 of Texts, you will need the previously built blocks, both from the first levels, and the larger pieces of texts, and having all the pieces in one place, you just need to build...
Generate drafts of landing pages, emails or promotional materials by choosing the tiles and that's it! Publish your materials or rebuild them in your favorite tools.
Remember the famous Jenga game, the more pieces you are missing, the easier your tower can fall. Ideally, you can build your marketing tower strong enough to win, so you get a consistent and focused message that will really lead to success.
In every game, you can't miss an extra!
Bonus: Browser Extension 📌
Build your marketing foundation in GETitOUT from Buyer Personas to Benefits, and then use them to create exceptional marketing materials in your favorite marketing tools, from WordPress to Mailchimp.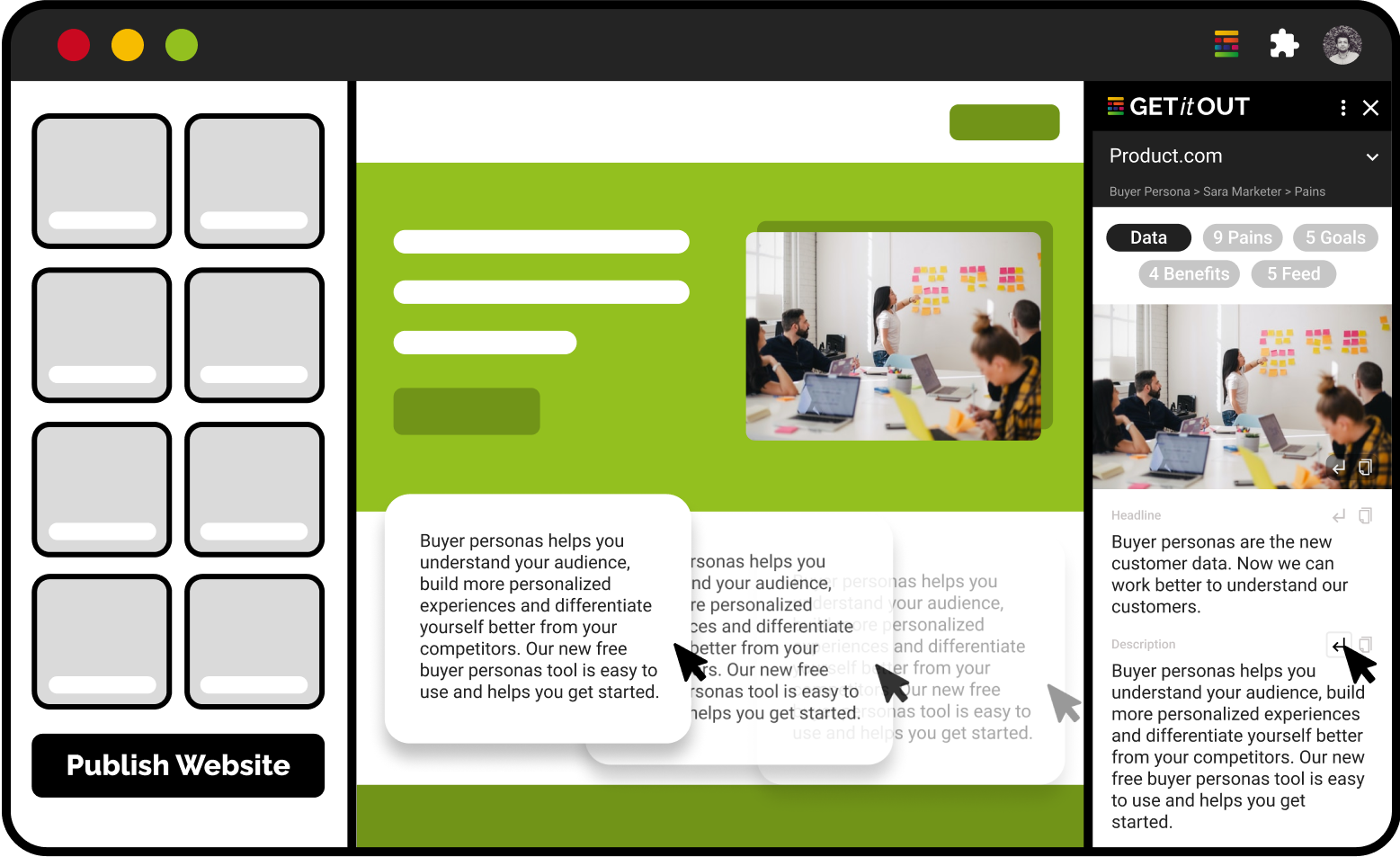 During the game you have accumulated, analyzed and strengthened valuable marketing information that will be the basis for all the strategies you want to undertake, now you need to have them at hand everywhere.
This is the goal of the extension browser, to provide you with all the information in your favorite tools, so you can create quickly without doubts or overtime, just copy and paste, texts, images and links.
That's it!
Any questions? Shoot us an email: [email protected]
We will be here to help you. 🙌🏻