Don't wait any longer to be able to create presentations, flyers, business cards, post and much more in the simplest way with the most powerful editor in the world, Google Slides, a tool that will put your marketing materials at your fingertips with a simple form to edit wherever you are, you don't have to be an expert to send and publish your assets.
Try how GETitOUT generates your asset in your design and with your content saving up to 50% of your time on details, all this is possible thanks to the unique integration of Google Drive & Slides. Now is the time to integrate it and see the magic.
There are two ways with which you can easily integrate your Google Drive.
1️⃣ Go to Settings by Product > Integrations Tab
Here you will find all the integrations that we currently have in GETitOUT, and they will help you to facilitate the process, for this it is enough to select the card with the Google Drive icon.

It will open a popup that will explain all the details and the sections in which the integration will act. Here, you click on CONNECT, and it will direct you to see the permissions granted where we specify access.

By continuing, Google authentication will open, here you can log in with your user and accept Google's requirements.

Finally, you will arrive at our success screen in GETitOUT which will offer you the option to go to create materials in minutes or return to the integrations page.
2️⃣ Go to Miscellaneous > Settings
It is necessary before creating your materials to integrate Google Drive & Slides, for this reason it is important to verify that you have configured everything in the section in which you are.
In the left menu of your workspace, go to Miscellaneous and click SETTINGS:
You'll see a short message that explains the importance of this integration.
Click on the button CONNECT GOOGLE DRIVE, and the integration popup will open. Just follow the steps there!
Important: Once Google shows you the following screen, you need to manually check the two checkboxes before continuing: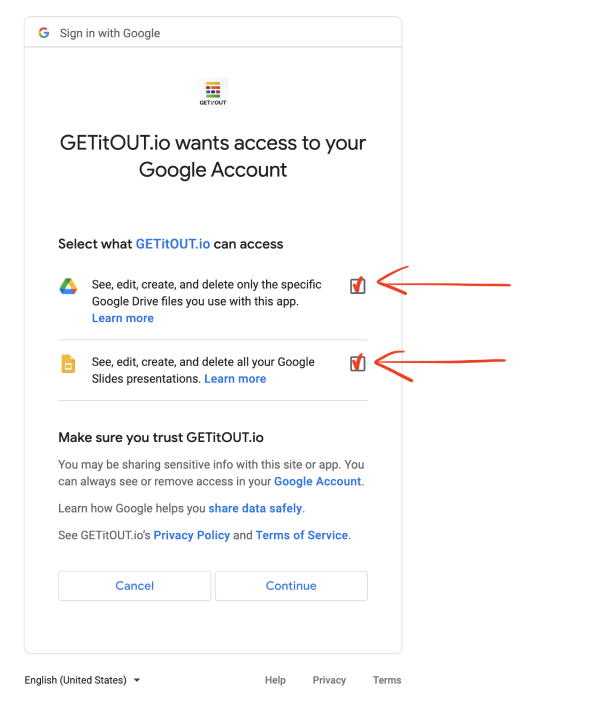 What are the permissions I grant when integrating Google Drive & Slides with GETitOUT? 🤔
GETitOUT will only get permission to create new files, and edit those newly created files later. This means that GETitOUT will NOT get permission to access the files you already have on your Google Drive.

In a nutshell: Your existing files stay completely private (and files you'll add later stay private, too).
Access the specific Google Drive files you use with GETitOUT.
This lets GETitOUT create new files on your Google Drive, and later edit and delete only those files created by GETitOUT. That way, the marketing materials you generate with GETitOUT are stored directly on your Google Drive.

Create, edit, and delete Google Slides presentations.

GETitOUT makes use of Google Slides to generate presentations, flyers, and similar marketing materials for you. That way, you can edit them easily, directly in Google Slides.
This way you can be calm, the GETitOUT flow and the accesses that you would give us in case of integration, are completely safe, we will not touch sensitive information of your account.
Note: Currently it will only be possible to integrate one Google Drive account per product, it will not be possible to repeat the integration in other products.
---
Related Articles: 📌
How does the Google Drive & Slides integration work? ⚙️
Any questions? Shoot us an email: [email protected]
We will be here to help you. 💻